Pressure Measuring Platform NX (WLAN)
The medilogic foot pressure measuring platform NX offers the unique possibility to enlargen your gangway to your own fits. THe modular concept enables to link up to 25 measuring platforms. In a row, in a double-row or in a rectangle.
A single platform gives you the option of dynamic or static pressure measuring underneath the foot. The measuring field is 384 x 384 mm and has 4.096 sensors. This means 2,8 Sensors per square centimeter.
The evaluation of the middle step out of several single steps is given by the medilogic software.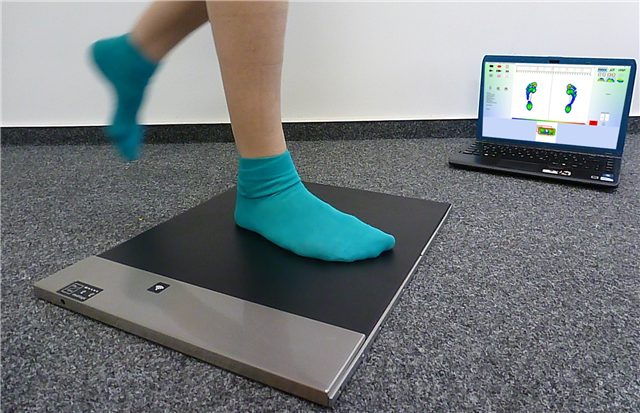 medilogic measuring Platform NX
up to 25 single platforms as an interlocking system
individual to configure
more flexibility
data transmission via WLAN
batter-operated, completely wireless
100 Hz sample rate
capcitive pressure sensors
measuring range 0,5 – 100 N/cm²
medilcal device class I
Intuitive Software
Ergonomic design
Real time picture during measuring
Storing with integrated customer database
Recording and analyzing of several steps
Pressure distribution in maximum value
Pressure distribution in average value
View of Impuls
View in 2D / 3D
Gait line
Playback the steps in real time or slow motion
Print out with your own logo, in 1:1, abstract report
A functional measurement system on highest technical level
The dynamic footprint evaluated of several steps. The view shows every single step for left and right side as overlay as well as the gaitline of several steps.
Haben Sie noch etwas Geduld! Zur Überbrückung sehen Sie die WLAN Sohle
Dieses Viedeo veranschaulicht die einfache Handhabung der Messung im Schuh und zeigt die direkten Auswertemöglichkeiten der Software, wie sie auch für die Platte NX bestehen.
(may change without notice)

platform:
4096 capacitve pressure sensors per single measuring field
Density of sensors: 2,8 sensors / cm²
Dimension of single platform: 384 x 384 mm
Dimension head piece: 90 x 384 mm
Configuration: up to 25 single measuring fields
Powersupply via internal accumulator
Range of measurement: 0,5 to 100 N / cm²
Sampling rate: Up tp max. 100 Hz
WLAN Data transmission
Frequency: 2,4 GHz
Range inside buildings: 25 m
CE – certified medical device class I
x86 compatible processor, min. 8 GB RAM
1 free USB Port
Windows® 7 / 8 / 10
Technical support via phone for free
Technical support via remote maintenance for free